Visit Karuizawa on your favorite season! Explore all kinds of sightseeing spots, have fun trekking with your family and friends!
Karuizawa Taliesin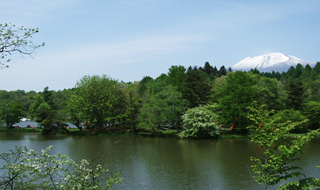 "Karuizawa Taliesin" is the cultural icon of Karuizawa, one of the largest leisure parks centered around Lake Shiozawa, set in a beautiful natural setting. Here, you can find various recreation and sport facilities: restaurants and cafes, historic buildings, museums, tennis courts, rental boats, shops, parks and a rose garden. You'll never regret spending some quality time with your family and friends, here, in this wonderful amusement complex.
Mount Asama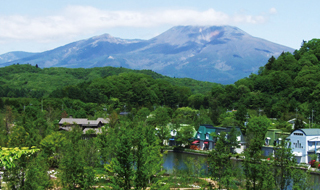 Also known as The Japan Alps is an active complex volcano, which stands 2,568 meters above sea level on the border of Gunma and Nagano prefectures and is one of the 100 famous mountains in Japan. Covered by primeval forests with white birch trees and alpine flora this spot offers spectacular scenery, and is known as a great place to watch the sunset.
※The geologic features of this active volcano are closely monitored with seismographs.
Shaw Memorial Chapel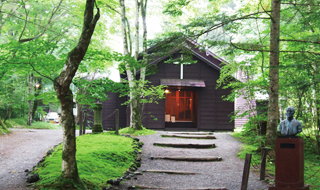 The oldest standing church in Karuizawa Ginza shopping district. This monument was established in 1903 as a tribute to the achievements of Alexander Croft Shaw, a Canadian missionary, who stopped in Karuizawa during his travels preaching Christianity.
Kumoba-ike Pond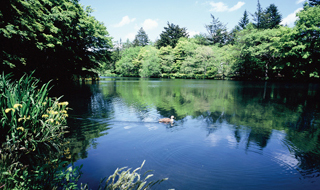 Also known as "Swan Lake", set in a beautiful country setting. This sightseeing spot features a path where visitors can circle the lake enjoying an incredible view of the pond and seasonal color changing of the surrounding trees.
Old Mikasa Hotel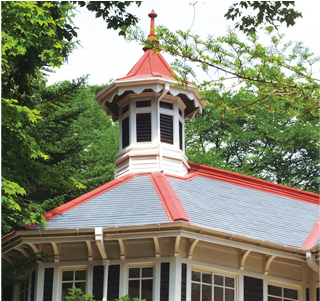 Old Mikasa Hotel is a national asset, which was designated as an Important Cultural Property in May 1980. Built in western style by a Japanese carpenter, it opened in 1907 and operated for 64 years.
Geometrically designed window frames, elaborate patterns carved into the curtain boxes, are some of the ornamentation that characterizes this hotel. Mikasa was also provided with electric light chandeliers and flush toilets which was unusual and unbelievable for those years.
Today, a part of the historic building is open to the public.
Karuizawa Prince Shopping Plaza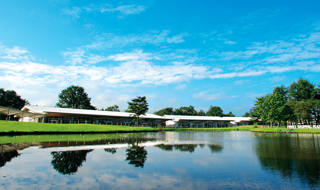 Located in front of the south exit of Karuizawa Station, or within 10 minutes drive after getting off the highway at Usui-Karuizawa IC. Karuizawa Prince Shopping Plaza is an outlet mall for popular brands, local souvenirs, outdoor and sport goods.