※Please, contact the hotel administration, if your car navigation system doesn't display the needed direction correctly.
※As there might be snow storms and sleet in winter (December to March), we recommend you changing to winter-tires, or bring snow chains with you.
◆ From Kanto
About 20min drive a car from Joshinetsu Expressway UsuiKaruizawa IC.

Driving down the prefectural road No. 43 Usui Karuizawa IC "Minamikaruizawa" intersection and turn left, to the National Highway No. 18 bypass. The little yellow building comes into view and drive.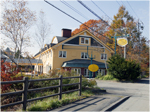 ◆ From Nagoya,Osaka
About 25min drive a car from Joshinetsu Expressway Komoro IC.

Driving down the national highway No. 18. Komoro IC. Since a way will branch if a little "Kariyadohigashi" crossing is passed, move on to the No. 18 bypass side. If the "Shiozawa" crossing is passed and it runs for a while, it will become a yellow building which is visible to a right hand.